Patent monitoring refers to the process of keeping a constant eye on the patent applications and old-aged patents. One can challenge patents on various grounds such as the existence of prior art, lack of description, and many other grounds. Thus, patent monitoring helps in providing insight into competitor's IP portfolios. Patent watch not only provides you information about your competitor's IP portfolio but also about the new technical trends, the innovation coming up in the market. Thus, patent monitoring is a strategic tool that can help you in boosting R&D.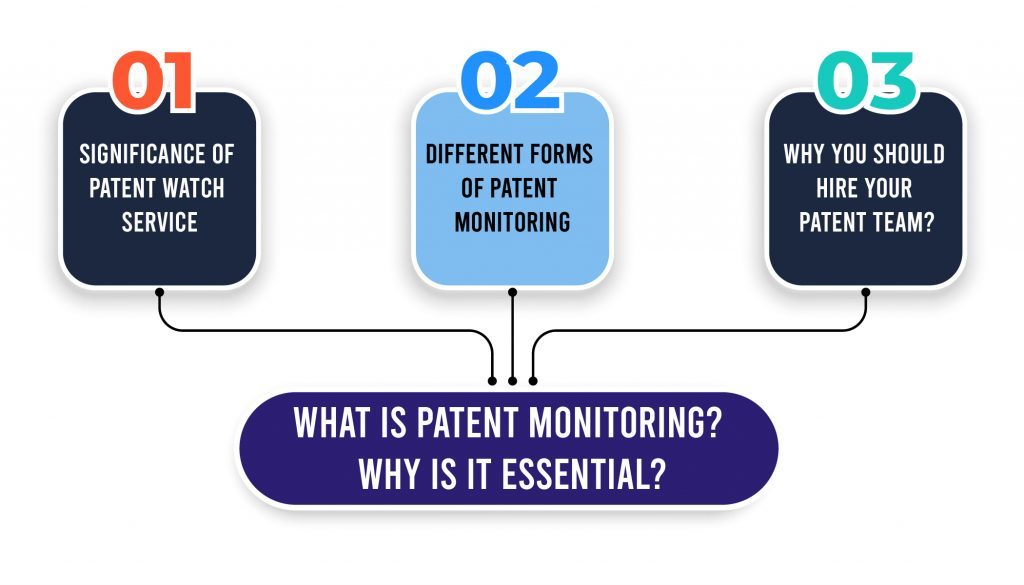 Significance of Patent Watch Service
A patent watch can bestow several benefits to your organization. Let's take a look at the significance of patent watch and what role does it has to play.
Information about new technology – A patent monitor search tool provides information about the latest technology and innovations happening in the domain of your business. This helps you in concocting a strategy that revolves around the R&D of your company. For your business to embark on the path of success, you must be aware of the new technologies.
Information about new patents – With patent monitoring, it becomes easy to find information about the inventions that have obtained patent rights. Other than that, you can derive useful insights from the pending patent applications.. Access to such information is helpful when you wish to challenge a patent on suitable grounds.
Information about expired patents – Another notable benefit of conducting a patent watch is that it lets you keep a track of expired patents or abandoned patents. A patent is valid only for a certain period and a regular maintenance fee is to be paid for the same. Thus most patents get expired even before the validity of a patent ends. By having access to this information, you can get to know what patents are available for the public domain.
Different Forms of Patent Monitoring
A person can choose from different types of patent monitoring depending upon his purpose. Take a look at different forms of patent watch available:
Technology Watch – A technology watch provides information about the latest technology, new inventions in a particular domain. A person gets information about the arrival of new technologies and understands their impact. Thus, Patent Watch boosts the R&D of the organization. Essentially, technology watch captures and analyses the emerging trends and technological advancements that help in taking IP-related decisions.
Design Watch – A person undertakes design watch service only when he wants to ensure that no one is infringing on the aesthetic part of the product. It is common for entities to come up with a similar design or simply copy the design of your product. A design watch identifies those entities who have copied the design of your product.
Competitor Watch– A competitor's watch takes into account all the activities of a competitor. A competitor watch provides you detailed information of the IP strategy of your competitor. Competitor's watch reveals information about the patent filing and expired patents. By having access to such information, you can also devise the strategy and work accordingly.
Why you should hire Your Patent Team?
Essentially, patent monitoring is a tool to keep a track of the patent of your competitors. After you have received the patent grants, you want to make sure that no one is infringing on the patent claimed by you. Thus, patent monitoring becomes essential.
Your Patent Team features a team of experts having years of experience in conducting patent watch across multiple domains. So, no matter what your business is, our team of experts complete this task of watching patents to protect your patent. Let us take the onus of catering to your needs.
To read more about our services, click here.