A provisional patent application is filed when the inventor is in the initial stage of invention. The inventor still needs to conduct experiment. That's when an applicant can consider filing this application. The description of the invention can be provided on the paper. To put it simple, filing such application provides benefit of security before filing for complete patent application.
Related Article – How to get Patent Protection in India?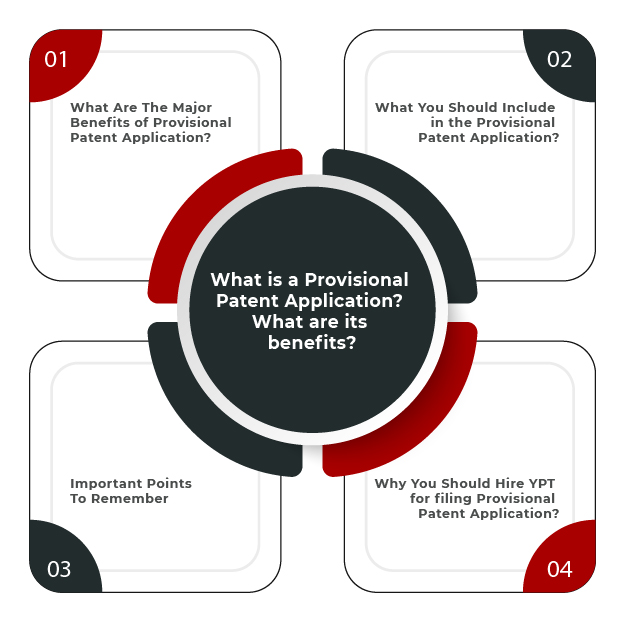 What Are The Major Benefits of Provisional Patent Application?
Filing a provisional patent application offers multiple benefits to inventors and investors. There are a lot of factors that can have a huge impact on the patentability of the invention. Let's have a look at its benefits:
Cost-Effective – The cost of filing a provisional patent application is low in comparison to the cost of filing a complete patent application. The applicant pays less amount of money. Along with that, the applicant gets additional time to work his/her way around the invention
Protection – When an invention is in the initial phase of development, filing a provisional patent application can provide an interim protection to the invention. The inventor has a time period of 12 months to improve his/her product and file for a complete patent application. With this, the inventor can evaluate his/her product on the commercialization front and make a decision whether he/she should proceed to file a complete patent application or not.
Patent Filing Date – When an applicant plans to obtain a complete patent, patent filing date plays a significant role. For instance, there are two patent applications that are similar- the application whose patent filing date is earlier gets the priority. When an applicant files a provisional patent application, the same date is considered when the applicant files a complete patent application.
This is just an optional step. If the inventor has fully prepared his/her invention, it is a good idea to apply for a complete patent.
Related Article – What is Patent Protection? What are different aspects of it?
What You Should Include in the Provisional Patent Application?
There are certain things that an applicant should mention in such application. A provisional patent application should bear these details:
Title
Description
Background of the invention
Important Points To Remember
There are certain things which you should remember while drafting such application. Keeping these points in mind is surely going to benefit you.
The applicant must file the complete specifications within 12 months.
If the applicant fails to file the complete specifications within 12 months, the patent will be abandoned.
A Provisional patent application is just the initial step towards registration. The applicant can't obtain patent on the basis of such application.
Why You Should Hire YPT for filing Patent Application?
Your Patent Team can help you in filing provisional patent application so that you can secure a filing date for your patent application. YPT has a team of IP leading experts who have deep knowledge about the Indian and global patent laws. So, if you are looking forward to get some help regarding provisional application for patent, YPT holds years of experience on this front. The team of YPT has supported more than 1000+ clients across 45 plus countries in multiple technology areas. So, YPT is always there to cater to your needs. Get in touch with us now.
To know more about our services, click here.
Other Related Articles